We are supported by readers. When you purchase through links on our site, we may earn an affiliate commission.
With various emerging seed banks, it has become quite hectic to find and settle to one seed bank, and your minds and your computer wander here and there looking for different banks, variety, and offers. And, there are plenty of options, which are trustworthy and the pain worthy you take to grow your plants from them. So for you to discover one more seed bank and seed and strains it offers along with offers, we are reviewing today the Gorilla Seed Bank.
Best Seed Bank Alternatives
MSNL is so popular that it needs no introduction in the community. They have a wide range of products and ship orders worldwide. They accept payment in varied ways including currency transfer and bitcoins.
It is one of the most trusted and well-known names in the cannabis industry. It ships worldwide and has numerous payment options including bitcoins.
This seed bank entered the market in 2005 and has been one of the dominating names since then. It ships in a large number of countries and accepts all sets of standard payment options including cryptocurrencies.
The review will help you discover everything about the seed bank and help you decide to buy from them or not and also what to buy, if yes. So, without further ado, let's get into everything related to the Gorilla Seed Bank.
Gorilla Seeds Review 2022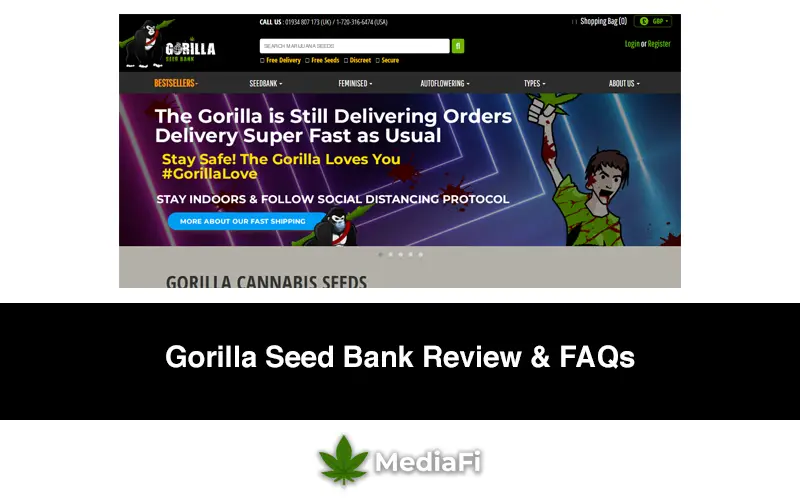 About Gorilla Seed Bank
Gorilla Seeds is quite well known for what it offers to sell but is relatively new compared to other seed banks with the same trust of the customers and a loyal fan base. Gorilla Seed Bank was launched in 2013 by Alex, the founder. Despite the relatively new foundation, the knowledge of several years of Alex acquiring seeds and growing marijuana gives Gorilla Seed Bank its backbone.
After the establishment, the seed banks grew into many folds and now stand today amongst the best players of the industry in no time.
Website experience
The website of the Gorilla Seed Bank is butter and cheese. More into it, the site is a very cool place, it is fun to browse around and very easy to discover. It doesn't feel like navigating a regular cannabis seed bank website. It looks and is easy to comprehend with details and pictures everything in balance, which is not the case with many seed bank websites.
| Girl Scout Cookies | Blueberry | Blue Dream | Sour Diesel |
| --- | --- | --- | --- |
| AK-47 | White Widow | Granddaddy Purple | Jack Herer |
The landing page of the website introduces you with offers and other news flashing in its top banner, and everything below is what you wished for, which is an excellent list of cannabis seeds and strains. The footer of the website in everything in detail. It has links to everything you want to see and know about the seed bank, making your shopping easier. The site provides you with every detail possible and in the most subtle way.
Users will be able to find more about the seed and strains from the website. They list every information, including a great description, genetics, growing conditions, yield, flavor, content, and a lot more, including reviews and order details. The menu of the website helps you much in ordering through categories, which takes you to their bestsellers, seed banks they stock from, and to various types of seed including feminized, auto-flowering, and also to multiple strains. The menu helps you to look for things you are very particular about what you want in your seeds.
Product and Services offered by Gorilla Seed Bank
Gorilla Seed Bank offers seeds from various trustworthy seed banks in one place. Shopping options for one seed and also in bundles like three to five and more are available with different grains, and customers can work up with the quantity they require.
You can shop from these seeds banks at Gorilla Seed Bank:-
Advanced Female Seeds, Advanced Seeds, Auto Seeds, Barney's Farm Seeds, Big Buddha Seeds, Bomb Seeds, Bulk Seeds, Big Head Seeds, Bull Dog Seeds, CBD Crew, Cream of the crop, Creative Mass Collective, Delicious Seeds, Royal Queen Seeds, Nirvana Seeds, Resin Seeds, Seed Stockers, Sensi Seeds, Serious Seeds, Sincity Seeds, Strain Hunters, Ace Seeds, 710 Genetics, Seedsman, Paradise Seeds, and various other famous seed banks.
| | | | |
| --- | --- | --- | --- |
| Acid | Atomic Haze | Sensi Star | Auto Jack |
However, Gorilla Seed Bank offers nothing other than seeds for sale. Unlike other seed banks, they do not have merchandise, grow equipment, and more. Their blog also lists promos, offers, deals on seeds, and no other articles on marijuana, seeds, and strains like others. However, they sell seeds as souvenirs, so there is no point in the website selling anything related to growing cannabis.
Seed and strain selection offered by Gorilla Seed Bank
The seed and strain selection of Gorilla Seed Bank is just impressive with all the fantastic seed banks they pulled in for the collection. From the finest breeders and seedbanks, the Gorilla Seed Bank stocks famous, award-winning, and particularly people's favorite strains. The classic ones or the new ones, customers will be able to find strains of various prominent seed banks in one place altogether to order. Check out some of the strains below from different seed banks.
Some of the great strains to discover at the Gorilla Seed Bank:-
| Crystal Gelato | Amnesia Lemon | Orange Sherbert | West Coast |
| --- | --- | --- | --- |
| Gorilla Glue | Royal Highness | Blackberry | Big Bud |
The seeds and strains sold at Gorilla Seeds are original and also have a reasonable germination rate. However, the quality of seeds and strains depends upon the quality the particular brand offers and is not related to Gorilla Seed Banks. Therefore, it is advisable to order after having knowledge about the seeds of the very seed bank you are going to order from Gorilla Seed Bank.
Reviews Online
Gorilla Seed Bank is reviewed positively all over the internet, and it is not the case with so many new seed banks. New in the competition, they have a solid image and are building trust with each passing day. They have been congratulated for their strain collection from various seed banks, the classic ones too, and for the faster shipping. Reviews also highlight the competitive prices they offer, which are far less than other seed banks.
| Blue Dream | Cannatonic | Skywalker OG | Green Crack |
| --- | --- | --- | --- |
| Granddaddy Purple | Durban Poison | Girl Scout Cookies | Sexxpot |
However, their customer service is lousy with little to no response, which is not acceptable. Many reviews are complaining that the seed bank hardly reverts, and queries remain unsolved. Their website and social platforms are also not responsive, but they are quite active on cannabis forums. There have been many reported instances of seeds getting out of stock upon ordering and, again, least customer support. They also faced a problem with their cryptocurrency payment, which seem to be sorted now.
Shipping and method
Gorilla Seed Bank ships all over the world and yes to the USA. They ship discreetly and stealth. The packages are neutral and padded for the safety of the seeds. They send you to order in the original packaging but are sometimes removed for extra stealth shipping. You can choose between standard and extra stealth delivery and also between standard and traceable shipment. The additional stealth delivery is shipped with T-shirt, DVD cases, and more such items to assure delivery without any confiscation. The additional stealth delivery option costs a little extra but ensures the customer one re-shipment in case of non-delivery, which works sort of insurance.
The shipping is not free and added to your order, and according to the shipping option you opt for. However, customers can enjoy free shipping on orders of 100 Euros or above. The rate of successful deliveries is high at Gorilla Seeds and their discreet packaging ensures one. They also send out shipment real quick and mostly the next day. They ship via Royal Mail, and they have a reputation for faster mail service, which teamed up with Gorilla's quick dispatch offers excellent service.
Payment options
Payment options offered at Gorilla Seed Bank are many, and they have been adding through the course of their operation. The payment options, which were not available earlier, are now available with them. You can pay at Gorilla Seed Bank through credit cards, debit cards, prepaid cards, cash, Bitcoin, and bank transfer. You can also opt to order through phone and pay via the method you feel most convenient.
| | | | |
| --- | --- | --- | --- |
| Medical Grow Kit | White Widow Kit | Gold Leaf Grow Kit | High Yield Kit |
Payments are hassle-free with Gorilla Seed Bank now. Customers just need to be careful while ordering and must follow the instruction, most importantly in Bitcoin payments to help payment get through easily.
Offers
Gorilla Seed Bank offers plenty of offers now and then. They have many promotional offers, sales, and offer free seeds on orders. Users with big orders are surprised by many free seeds. They also ship free for orders over 99 GBP and also provide discounts on payments made via Bitcoins. You can refer to their blog for running and previous offers.
Other Recommended:
Frequently Asked Questions (FAQs) regarding Gorilla Seeds
1. What are Gorilla Seeds?
Gorilla Seeds is Gorilla Seed Bank, which sells cannabis seeds from various famous seed banks. They have a vast collection of classic seeds and also different famous strains.
2. Do Gorilla Seeds ship to the USA?
Yes, Gorilla Seed Bank ships to the USA and the rest of the world.
3. Do Gorilla Seed Bank ship discreetly?
Yes, Gorilla Seed Bank Ship discreetly and stealthily. They ship in protected neutral envelopes, and you can also opt for their super stealth shipping option.
4. Is Gorilla Seed Bank reliable to order seeds?
Despite being relatively new, Gorilla Seed Bank is reliable to order your seeds from and also to get hands-on some of the best strains from various seed banks.
5. What payment options does Gorilla Seed Bank accept?
Gorilla Seed Bank accepts credit cards, debit cards, prepaid cards, bank transfer, cash, and Bitcoin for payment.
Best Seedbanks
Other Recommended:
The cumulation
Gorilla Seed Bank seems to be a real deal with all the leading seed banks and a vast collection. And we are assertive that the seed offering from Gorilla is worth paying for but yes with a little trouble. They have not such friendly customer support, which is the only problem. You can get great seeds and strains at very competitive prices from the Gorilla Seed Bank and also really quick. The shipment, as discussed above, is fairly fast.
They also offer plenty of payment options and also stealth delivery. Apart from their new establishment and less operational history, the seed bank is pretty much like other famous seed banks. Our compilation of the Gorilla Seed Bank will be simple and straightforward that the bank is reliable enough to give it a try. So, head to the links above or directly visit their website to know more and order right away.