We are supported by readers. When you purchase through links on our site, we may earn an affiliate commission.
Last Updated on September, 2023 by Rob Wilson
With new seed banks emerging all of the time, it's no longer as easy as it used to be to pick out a seed bank that best suits your needs, especially if you're brand-new to growing marijuana. Although you may constantly find your mind and computer wandering from one seed bank to another, there are plenty of seed banks out there that are both reliable and worth their price tag. One in particular that we can't wait to talk about is the Gorilla Seed Bank. Take a few minutes to discover a new seed bank and the seeds and strains it offers by delving into our Gorilla Seed review!
Best Seed Bank Alternatives
If ever you were searching for a seed bank that needed no introduction to the community, MSNL Seed Bank would be a top pick. Most people keeping an eye out for a great seed bank want one that carries lots of seed types and offers convenient product delivery. MSNL's got these bases covered: they carry more than 250 types of seeds (regular, feminized, auto-flowering, etc.), and they discretely ship all of their orders worldwide. We're pleased to say that MSNL Seed Bank also accepts various payment methods including Bitcoin and currency transfers.
Looking for more seed banks with well-trusted and well-known names aside from Gorilla Seed Bank? ILGM may be the one for you. If you're searching for feminized seeds to purchase, you're counting on each of your grows to provide amazing buds. ILGM offers buyers like yourself feminized and auto-flowering seeds that guarantee amazing buds on every grow. We love purchasing from ILGM thanks to their germination-guaranteed seeds and top-quality customer support, and we highly recommend them if you're looking to stop overpaying for weed and start growing quality buds of your own.
This seed bank entered the market in 2005 and has been one of the dominating names since then. It ships in a large number of countries and accepts all sets of standard payment options including cryptocurrencies.
The review will help you discover everything about the seed bank and help you decide to buy from them or not and also what to buy, if yes. So, without further ado, let's get into everything related to the Gorilla Seed Bank.
Gorilla Seed Bank Review (2023)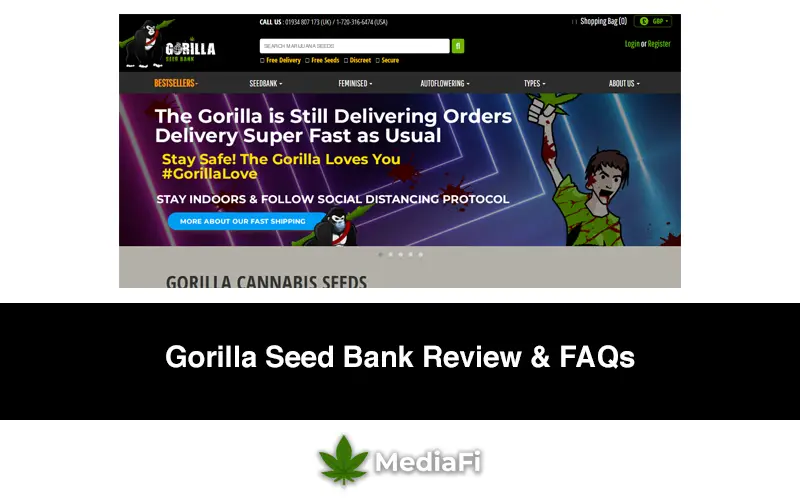 About Gorilla Seed Bank
The Gorilla Seed Bank is highly well-known despite being relatively new when compared to other popular seed banks that customers trust. Launched in 2013, the Gorilla Seed Bank has experienced rapid success thanks to its owner's knowledge of acquiring marijuana seeds and growing marijuana.
The Gorilla Seed Bank Website Experience
The Gorilla Seed Bank is easy to navigate and fun to browse, making it a very cool site to spend hours on. It doesn't feel like navigating a regular cannabis seed bank website. It looks and is easy to comprehend with details and pictures everything in balance, which is not the case with many seed bank websites.
| Girl Scout Cookies | Blueberry | Blue Dream | Sour Diesel |
| --- | --- | --- | --- |
| AK-47 | White Widow | Granddaddy Purple | Jack Herer |
The landing page of the website introduces you with offers and other news flashing in its top banner, and everything below is what you wished for, which is an excellent list of cannabis seeds and strains. The footer of the website in everything in detail. It has links to everything you want to see and know about the seed bank, making your shopping easier. The site provides you with every detail possible and in the most subtle way.
Users will be able to find more about the seed and strains from the website. They list every information, including a great description, genetics, growing conditions, yield, flavor, content, and a lot more, including reviews and order details. The menu of the website helps you much in ordering through categories, which takes you to their bestsellers, seed banks they stock from, and to various types of seed including feminized, auto-flowering, and also to multiple strains. The menu helps you to look for things you are very particular about what you want in your seeds.
Don't Settle for Less-Than-Stellar Site Experiences
If you've learned anything from our Gorilla Seed Bank review so far, it's that having a seamless website experience makes finding and purchasing your Marijuana seeds a breeze. Less-than-stellar site experiences make it difficult for buyers like yourself to quickly find the seeds they're looking for; the best website experiences, like those offered by Crop King Seeds, allow buyers to quickly browse auto-flowering, feminized, and regular seeds while making it easy to find the payment options that are supported. As soon as you land on Crop King's site, you'll have the option to browse between seeds, new strains, and even USA-specific seeds.
Products and Services Offered By Gorilla Seed Bank
Gorilla Seed Bank offers seeds from various trustworthy seed banks in one place. Shopping options for one seed and also in bundles like three to five and more are available with different grains, and customers can work up with the quantity they require.
You can shop from these seeds banks at Gorilla Seed Bank:-
Advanced Female Seeds, Advanced Seeds, Auto Seeds, Barney's Farm Seeds, Big Buddha Seeds, Bomb Seeds, Bulk Seeds, Big Head Seeds, Bull Dog Seeds, CBD Crew, Cream of the crop, Creative Mass Collective, Delicious Seeds, Royal Queen Seeds, Nirvana Seeds, Resin Seeds, Seed Stockers, Sensi Seeds, Serious Seeds, Sincity Seeds, Strain Hunters, Ace Seeds, 710 Genetics, Seedsman, Paradise Seeds, and various other famous seed banks.
| | | | |
| --- | --- | --- | --- |
| Acid | Atomic Haze | Sensi Star | Auto Jack |
However, Gorilla Seed Bank offers nothing other than seeds for sale. Unlike other seed banks, Gorilla Seed Bank doesn't offer any merchandise or marijuana-growing equipment. Gorilla Seed Bank does, however, sell seeds as souvenirs.
Seeds and Strains Sold By Gorilla Seed Bank
Gorilla Seed Bank's selection of seeds and strains is impressive, pulling from quality breeders and seed banks. The Gorilla Seed Bank has in stock lots of popular and award-winning strains, and customers looking for both classic and new ones will be able to find what they're looking for all in one place and ready to order. Check out some of the seeds and strains that Gorilla Seed Bank offers below:
The Best Strains to Discover at The Gorilla Seed Bank
| Crystal Gelato | Amnesia Lemon | Orange Sherbert | West Coast |
| --- | --- | --- | --- |
| Gorilla Glue | Royal Highness | Blackberry | Big Bud |
The Gorilla Seed Bank sells seeds and strains that are original and boasts a very reasonable germination rate. original and also have a reasonable germination rate. The quality of seeds and strains depends upon the quality the particular brand offers, however, which means that we recommend waiting to order until you've established the property knowledge of the seeds you want and the seed bank you're ordering from when using Gorilla Seed Bank.
Online Gorilla Seed Bank Reviews
Gorilla Seed Bank is reviewed positively all over the internet, and it is not the case with so many new seed banks. New in the competition, they have a solid image and are building trust with each passing day. They have been congratulated for their strain collection from various seed banks, the classic ones too, and for the faster shipping. Reviews also highlight the competitive prices they offer, which are far less than other seed banks.
| Blue Dream | Cannatonic | Skywalker OG | Green Crack |
| --- | --- | --- | --- |
| Granddaddy Purple | Durban Poison | Girl Scout Cookies | Sexxpot |
Customer service at Gorilla Seed Bank appears to have mixed reviews, with some customers indicating that they got little or no response. Some reviews indicate that their query went unresolved and that Gorilla Seed Bank's social platforms are not responsive. The seed bank is quite active on cannabis forums. Additionally, some users report instances of seeds getting out of stock upon ordering. Some users also seem to have faced problems with cryptocurrency payments, although these seem to be sorted out now.
Shipping Methods
Gorilla Seed Bank ships all over the world and yes to the USA. They ship discreetly and stealth. The packages are neutral and padded for the safety of the seeds. They send you to order in the original packaging but are sometimes removed for extra stealth shipping. You can choose between standard and extra stealth delivery and also between standard and traceable shipment. The additional stealth delivery is shipped with T-shirt, DVD cases, and more such items to assure delivery without any confiscation. The additional stealth delivery option costs a little extra but ensures the customer one re-shipment in case of non-delivery, which works sort of insurance.
The shipping is not free and added to your order, and according to the shipping option you opt for. However, customers can enjoy free shipping on orders of 100 Euros or above. The rate of successful deliveries is high at Gorilla Seeds and their discreet packaging ensures one. They also send out shipment real quick and mostly the next day. They ship via Royal Mail, and they have a reputation for faster mail service, which teamed up with Gorilla's quick dispatch offers excellent service.
Some seed banks simply offer better shipping experiences than others, and this Gorilla Seed Bank review wouldn't be complete if we didn't quickly mention the amazing international experience you receive from Quebec Cannabis Seeds. This Canadian seed bank is a leading provider of seed strains in both Canada and the US, and they've become one of the best handlers and shippers of high-quality marijuana seeds. Whether you need to rely on a discrete, stress-free, and affordable international shipping process for seeds that will thrive in the harsh North American climate, we highly recommend checking out Quebec Cannabis Seeds.
Payment options
Payment options offered at Gorilla Seed Bank are many, and more have been added through the course of their operation. You can pay at Gorilla Seed Bank through credit cards, debit cards, prepaid cards, cash, Bitcoin, and bank transfers. You can also opt to order by phone and pay via the method you feel is most convenient.
| | | |
| --- | --- | --- |
| Do-Si-Dos Feminized Seeds | Runtz Feminized Seeds | Zkittlez Feminized Seeds |
Payments are hassle-free with Gorilla Seed Bank. Customers just need to be careful while ordering and must follow the instructions, most importantly the instructions that relate to Bitcoin payments to help payment get through easily.
Offers
Gorilla Seed Bank offers plenty of offers now and then. They have many promotional offers, and sales, and offer free seeds on orders. Gorilla Seed Bank customers who have big orders are surprised by free seeds. They also ship free for orders over 99 GBP and also provide discounts on payments made via Bitcoins. You can refer to their blog for running and previous offers.
Other Recommended:
Frequently Asked Questions (FAQs) regarding Gorilla Seeds
1. What is Gorilla Seed Bank?
Gorilla Seed Bank is a seed bank that sells cannabis seeds from other famous seed banks. They have a vast collection of classic seeds as well as different famous strains.
2. Do Gorilla Seed Bank Ship to the USA?
Yes, Gorilla Seed Bank ships to the USA as well as internationally.
3. Does Gorilla Seed Bank Ship Discretely?
Yes, Gorilla Seed Bank ships its products discretely in stealthy packaging. They ship in protected neutral envelopes, and you can also pay extra to use their super stealth shipping option.
4. Is Gorilla Seed Bank Reliable?
Despite being relatively new to the market, Gorilla Seed Bank is a reliable seed bank to order your seeds from, and it also lets you get your hands on some of the best strains from various seed banks.
5. What Payment Options Does Gorilla Seed Bank Accept?
Gorilla Seed Bank accepts credit cards, debit cards, prepaid cards, bank transfers, cash, and Bitcoin for payment.
Best Seedbanks
Other Recommended:
Gorilla Seed Bank Review 2023: Our Final Say
Gorilla Seed Bank is the real deal when it comes to the leading seed banks and a vast collection. Gorilla Seed Bank offers products that are worth paying for, despite having less-than-stellar customer support which is the main problem that we've noted in this review.
Gorilla Seed Bank also offers plenty of payment options as well as stealthy delivery. Apart from their new establishment, this seed bank is pretty much like other famous seed banks. So, head to the links above or directly visit the Gorilla Seed Bank site to learn more and start ordering!