Last Updated on September, 2023 by Rob Wilson
We are here with another review of another celebrated seed bank and probably amongst the best, the Sensi Seeds. Sensi Seeds is the name, which we hear with other very famous seed banks. With its headquarters in Amsterdam, the cannabis capital, we love to call, this seed bank also dates back to various decades like other prominent seed banks, and we guess the reason can easily be ascertained, and that is experience.
These are the top cannabis seeds on the market:
| | | |
| --- | --- | --- |
| Do-Si-Dos Feminized Seeds | Runtz Feminized Seeds | Zkittlez Feminized Seeds |
Best Seed Bank Alternatives
MSNL is so popular that it needs no introduction in the community. They have a wide range of products and ship orders worldwide. They accept payment in varied ways including currency transfer and bitcoins.
It is one of the most trusted and well-known names in the cannabis industry. It ships worldwide and has numerous payment options including bitcoins.
This seed bank entered the market in 2005 and has been one of the dominating names since then. It ships in a large number of countries and accepts all sets of standard payment options including cryptocurrencies.
So, without further ado, let's go through everything the seed bank has to offer and is it up to the hype.
Sensi Seeds Review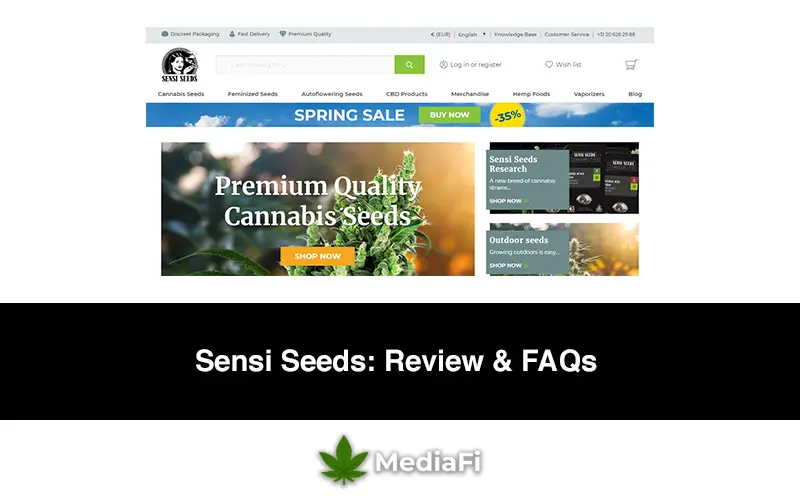 About Sensi Seeds
Sensi Seeds is considered early pioneers in the cannabis community with their research and development with marijuana, its seeds, and strains. And, most importantly, due to their activities related to the normalization of cannabis and for the acceptance of its medicinal as well as recreational properties. 
| | | | |
| --- | --- | --- | --- |
| Gelato | Girl Scout Cookies | Wedding Cheesecake | Banana Kush |
Sensi Seeds seems to be a real deal with four physical stores in Amsterdam and Barcelona. It has three in Amsterdam, and one in Barcelona, Spain. And the deal gets seriously practical with their Hash Marihuana & Hemp museums in Amsterdam and Barcelona.
The seed bank came into limelight in the year 1985 through the opening of their first museum and their active participation in activities related to normalizing weed. The history is rich and dates back to several decades involved in the development of strains and seeds and was founded by Ben Dronkers. The online and offline seed bank has been in operation since then and continues to grow.
Ventures of Sensi Seeds other than seed bank and museums includes their sister-concern company HempFlex, which was established in 1993. The company produces innovative purpose-built hemp cultivation equipment and has been innovating methods for processing hemp for its various uses. Sensi Seeds practically relaunched the hemp industry and continues to offer products for hemp cultivation to multiple sectors, which is bringing in changes for the good.
About Sensi Seeds website
The website of the Sensi Seeds is quite impressive. The site presents users with interactive banners to seeds, strains, offers, and other information on the landing page. The landing page also lists down popular and best-selling strains from Sensi Seeds with pictures and details. Additional information on the landing page takes users to the history of Sensi Seeds, pieces of information, blog posts, and a lot more for easy navigation and discovery.
The website has a quick menu at the top to cannabis seeds, feminized seeds, auto-flowering seeds, CBD products, Merchandise, Hemp products, Vaporizers, and Blog. The footer of the site offers you a link to the Trustpilot review of Sensi Seeds and links to shop, blog, support, and information. Your selection of seeds and strains is also backed by elaborate detail and description under every product and strain on the website, which lists genetics, type, grow, height, yield, and a lot more, including the first-hand review of customers.
The site offers higher levels of readability with larger fonts of the text and also clear pictures and large banners. It can also be browsed in eight different languages and offers you to choose from six currencies for price conversion and for ease in ordering.
The best part of the website, according to us, is the knowledge base, which provides users with answers to questions related to order, payment, shipment, and more. The page offers answers to frequently asked questions addresses to stores of Sensi Seeds, banking details, postal address, and every other information a user might need before and also after ordering.
Product and Services offered by Sensi Seeds
Products and services of Sensi Seeds are highly praised, and there is no doubt about it. The seed bank is one of the largest in the world with 500 strains of their own and several other products related to cannabis and well, the state of art museums. The products offered by Sensi Seeds include cannabis seeds, CBD products, hemp foods, merchandise, and vaporizers.
| Jack Herer | Northern Lights | Super Skunk | Purple Bud |
| --- | --- | --- | --- |
| Big Bud | Hindu Kush | Sensi Skunk | Ed Rosenthal |
You can shop seeds in feminized and auto-flowering types across the strains along with medical strains. The CBD products offered are CBD oils, CBD capsules, and CBD Coconut Hemp oil, all from Sensi Seeds. You can get hands-on Sensi Seed's merchandise like T-shirts, hoodies, zipped hoodies, jumpers, Snapback caps, and beanies in various styles and colors.
Products from the hemp line of Sensi Seeds include hemp seed oil, organic hemp seeds, and an organic hemp protein shake. Also, vaporizers from Sensi Seeds are not to be missed in various styles and sizes to suit different uses and needs.
Quality and Types of seeds and strains offered by Sensi Seeds
The most important aspect of the review of seed banks is the quality and types of seeds and strains they offer. Sensi Seeds offer up to 500 different strains, which are professionally bred by them through the course of their history and even today. Amongst these strains, many are awarded, cannabis cup winning, and some ancient strains, which are hard to find and which you surely do not want to miss.
Sensi Seeds also offer strains from White Label seed banks and new strains bred by Sensi Seeds under the name Sensi Seeds Research. You can also get hands-on regular seeds from White Label from Sensi Seeds.
The quality of seeds and strains from the seed bank can be ascertained with the fact that Sensi Seeds develop the medicinal strains supplied by the pharmacies for the Dutch government. Also, the strains from Sensi Seeds are most reported to be potent, and the seeds germinate well, resulting in healthy plants and higher yields.
But also there have been increasing cases of the low rate of germination of Sensi Seeds, which is an increasing concern.
Some of the best strains available with Sensi Seeds:-
New products under Sensi Seeds Research:-
Strains from White Label Seed Bank available at Sensi Seeds:-
Reviews Online
Reviews online regarding Sensi Seeds are overwhelming in a very positive way. Reviews are seen praising Sensi Seeds for the consistency of providing quality seeds and strains for more than three decades and providing some of their own rare strains. Reviews particularly appreciate the seed quality and potency of strains, which has not seen any change from the time the seed bank is launched.
Reviews from loyal customers of not just some years but also of nearly decades can be seen praising the germination quality of the seeds along with healthy plants. The shipping time and packaging of the seed bank is also appreciated along with other operations, which are carried out professionally by the seed bank.
However, with positive reviews, there are few negative yet notable reviews, which points out a specific problem, which users must be aware of. The seed bank with tons of order seems to be reverting late on your queries. Reviews also claim that orders from the bank now include various low-quality seeds, which also doesn't seem alright and also doesn't produce healthy plants. Also, low germination is recorded with some orders, which users must take note.
Shipping and method
Sensi Seeds ships to a limited number of countries and specifically doesn't ship to the USA and Canada. They ship seeds and other CBD products to most of the European countries, ships only merchandise to some countries, and there is a list of countries, where they provide no service. You can order seeds from Sensi Seeds if you are ordering from Austria, Belgium, Czech Republic, Denmark, Finland, France, Germany, Greece, Hungary, Ireland, Italy, Malta, Poland, Portugal, Romania, Serbia, Slovakia, Slovenia, Spain, Sweden, and the United Kingdom. For the rest of the countries, Sensi Seeds either ship merchandise, CBD products, or else no service at all, and all the information is available on their knowledge Base page under shipping queries.
The shipping method of the seed bank is discreet with neutral white packages, which are tamper proof envelopes. These envelopes are bubble wrapper lined for the protection of seeds. The packages have no mention of the content and only include addresses.
The shipping is chargeable with Sensi Seeds. Standard packaging and postage fees for orders in Europe are chargeable with €7.50, and the same outside Europe is chargeable with €12.50. You can also opt for insurance for your order with an additional payment of €5.00. However, shipping is non-trackable, and you can check the status of your order in your account with Sensi Seeds. In case of non-receipt of your order, customer care can be approached.
Payment options
Sensi Seeds accepts three payment options. They accept payments via Credit Cards, Bank transfer, and Cash. Credit Card payments are received via encrypted 128-bit SSL certificates, keeping card and users information safe and is the fastest method through which payments are accepted. Bank transfers can be made to their bank accounts, details of which are available on the website securely. The payments via bank transfer may take a few days, which will delay the shipping. The last option of cash payment can be made by sending cash to Sensi Seeds via registered mail. Upon receipt of money, which may take up to 7 to 28 days to reach the address.
There are limited payment options, but adequate available. They do not accept cryptocurrencies, which is a downside. They also do not accept cheques, Paypal, and international money orders.
Offers
Sensi Seeds doesn't offer promotional offers and various discounts like other seed banks. However, they offer sales and discounts on seed and strains from time to time. You are very unlikely to see extensive sales programs on Sensi Seeds, probably because they need no such for sales. However, you can make most of your money spent via sales that go live on the website, so keep yourselves updated and informed.
Best Alternatives of Sensi Seeds
Other Recommended:
Frequently Asked Questions (FAQs) regarding Sensi Seeds
1. Are Sensi Seeds any good?
Sensi Seeds are among the most trusted cannabis seed banks around the world, which is in operation for more than three decades. They are early pioneers in the cannabis community and are breeders of various potent strains. They are good and reliable for the supply of seed for your weed.
2. What are the best-feminized seeds?
The feminized seed of cannabis produced only female plants, which yields in resin buds. These seeds can be procured from any well-known and trusted seed bank in whatsoever strain you require. Best feminized seeds available with Sensi Seeds are available in strains like Skunk #1 Feminized, California Indica Feminized, and a lot more.
3. Does Sensi Seeds ship to the USA?
No, Sensi Seeds doesn't ship to the USA, Canada, and various other countries.
4. What are feminized seeds?
Feminized seeds are cannabis seeds bred to produce only female plants. They eliminate the male chromosomes resulting in resin bud yielding grows of marijuana.
5. Will seeds from a female plant be female?
No, the seeds of a female plant don't need to be only female. Feminized seeds are specially bred, and it cannot be ascertained in any regular seed by any plant.
Other Recommended:
The Cumulation
So, this was the review of Sensi Seeds, one of the prestigious seed banks, which is in operation for decades and has other ventures too. They have pioneered the cannabis seed market and continue to do so today. Reliable and trustworthy source to get your seeds. There may be some hiccups with orders and germination, but those are acceptable in the course of business. So, get your seeds from the best in the world and also discover some of the best strains in the links above.