Last Updated on September, 2023 by Rob Wilson
Cannabis culture of Amsterdam is wild and free, and also some of the best places to get your hands on the finest cannabis and its products. Availability of most excellent sources and also an abundance of them makes the Netherlands and its seed banks much sought throughout the world. Therefore, we are reviewing one for you here, the Amsterdam Seed Center, for your seed's requirements.
These are the top feminized cannabis seeds on the market:
| | | |
| --- | --- | --- |
| Do-Si-Dos Feminized Seeds | Runtz Feminized Seeds | Zkittlez Feminized Seeds |
Best Seed Bank Alternatives
MSNL is so popular that it needs no introduction in the community. They have a wide range of products and ship orders worldwide. They accept payment in varied ways including currency transfer and bitcoins.
It is one of the most trusted and well-known names in the cannabis industry. It ships worldwide and has numerous payment options including bitcoins.
This seed bank entered the market in 2005 and has been one of the dominating names since then. It ships in a large number of countries and accepts all sets of standard payment options including cryptocurrencies.
Amsterdam Seed Center is probably your one-stop-shop for various seeds from various seed banks and on top of with a physical store in Amsterdam. What else can get better than this, right? Well, let's find out in the complete review down below, where we will review everything about the Amsterdam Seed Center and get you with every detail you would require to decide.
Amsterdam Seed Center Review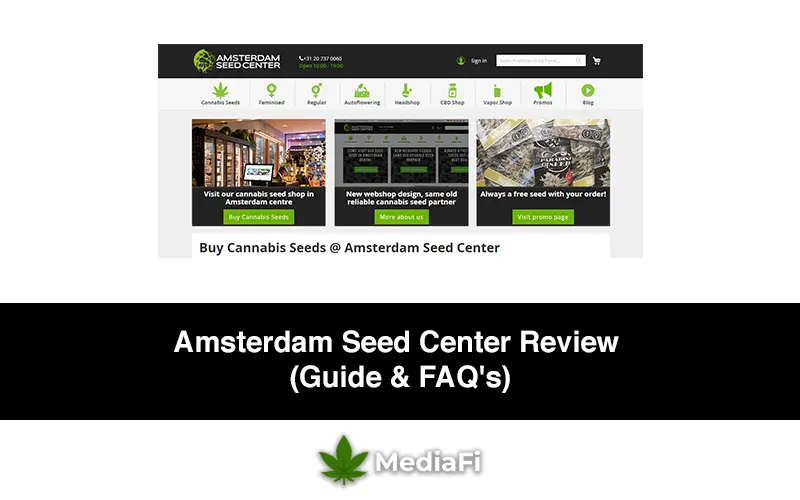 About Amsterdam Seed Center
Founders of Paradise Seeds established Amsterdam Seed Center to provide users with a variety of seeds from different seed banks. Established in the year 2011, the seed center provides its customers with seeds from an astonishing number of seed banks that are more than 40. The supply from seed banks makes a collection of over 1500 plus seeds and strains available at Amsterdam Seed Center. They also have an experience of several decades of growing and breeding various strains for best yielding seeds with Paradise Seeds.
| Blue Dream | Cannatonic | Skywalker OG | Green Crack |
| --- | --- | --- | --- |
| Granddaddy Purple | Durban Poison | Girl Scout Cookies | Sexxpot |
Situated in Amsterdam, Netherlands, the seed center source seeds from banks around the world and also ship them worldwide with few exceptions. The reputation of the seed center is pretty reliable and has the trust of the customers from across the globe. They also have drawbacks like others, but advantages take over them through effective functioning.
 The physical store of Amsterdam Seed Center is situated in the heart of the city and has a collection of seeds and merchandise. You can visit it at Gravenstraat – 12, Next to Dam Square in Amsterdam.
About Amsterdam Seed Center Website
The website of Amsterdam Seed Center is user-friendly, interactive, and also aesthetically pleasing. Easy to browse with products links menu just below the header, which makes shopping a lot easier. The website also has offers listed with top-selling seeds and strains for suggestions.
The best part is the seed finder filter on the website. The finder helps you look for the seed and strain you need through filters like gender, variety, type of flowering, flowering time, THC contain, CBD contains, yield, and plant height.
You will also find blogs, articles, news, videos, and various other information related to the cannabis world on the Amsterdam Seed Center website. The blog section is rich with information and grow guides for beginners and also for the experience. The quick links in the footer are present to take you to the important pages of the website and seeds of best-selling strains for a great reference.
Products and Services offered by Amsterdam Seed Center
Amsterdam Seed Center offers 1000 plus strains and 1500 seeds from various seed banks, including the Paradise Seeds. With a significant number of strains from different seed banks, the collection is diverse, and for all. Apart from seeds, Amsterdam Seed Center has a lot more products under their hood.
| | | | |
| --- | --- | --- | --- |
| Gelato | Girl Scout Cookies | Wedding Cheesecake | Banana Kush |
The product range includes regular seeds, feminized seeds, auto-flowering seeds, CBD oils, CBD oil capsules, CBD chew gums, topical creams, lip and skin balm, and nebulizers. A variety of other products include crushers, lighters, hemp bags, grow equipment, boxes, bags, handbooks, torches, magnifiers, scissors, mid-trainers, merchandise like t-shirts, and a lot more are available.
You can also shop a variety of vaporizers from the Amsterdam Seed Center in various sizes, styles, and shapes along with cartridges and fittings. The product range is still quite long with multiple products like rolling papers, empty jars, pocket protectors, and a lot, lot more.
Their customer care service is praised by its customers and visitors to the store. They have a helpline for queries and concerns and can be reached during the working hours of the store. Also, they are open throughout the week for your orders and store visits.
Type and Quality of Seeds and Strains from Amsterdam Seed Center
Talking about seeds and strains, Amsterdam Seed Center has them aplenty with numerous seed banks and also a collection of Paradise Seeds. They have feminized, auto-flowering, as well as regular seeds of various strains. You will be able to find and get various famous strains from different seedbanks in one place and, at a time, avoiding the pain of ordering from various.
You can shop from following seed banks and breeders on Amsterdam Seed Center:
Barney's Farm, Dutch Passion, Buddha Seeds, Cali Connection, Exotic Genetix, Cannabiogen, BC Bud Depot, CBD Crew, Devil's Harvest, Royal Queen Seeds, DNA Genetics, Dinafem, Dutch Passion, Emerald Triangle, Soma's Seeds, Rare Dankness, Eva Seeds, Fast & Furious Seeds, Hortilab Greenhouse Seeds, Greenlabel, Humboldt Seeds, Kannabia Seeds, Karma Genetics, Loud Seeds, MedicalSeeds, Mr. Nice, Paradise Seeds, Positronics, Reserva Privada, Resin Seeds, Seedism, Sensi Seeds, Serious Seeds, Sin City Seeds, Strain Hunters, Sweet Seeds, TGA Genetics, Top Tao Seeds, Vulkania Seeds, White Label Seeds, and lot more.
| Girl Scout Cookies | Blueberry | Blue Dream | Sour Diesel |
| --- | --- | --- | --- |
| AK-47 | White Widow | Granddaddy Purple | Jack Herer |
Some of the top strains available on Amsterdam Seed Center from different seedbanks:-
The collection of strains from above-listed seed banks is impressive and includes many much-sought seeds and strains. You can also shop for medical strains and seeds, which are also available in abundance from various seed banks.
Some brilliant medical strains:
Shopping from Amsterdam Seed Center will also require knowledge of the customer regarding seeds, strains, and seedbanks as, the Amsterdam Seed Center retails seeds, distributing these to customers. So, you cannot rely on them for the quality of your strain or seeds, and you need to be responsible for what you choose and buy. So, gather know-how of seeds and strains you want to purchase and then order for a pleasant shopping experience.
Amsterdam seed banks maintain the quality of the seeds as they keep them refrigerated to deliver fresh. The seeds are ideal to be germinated within a year from receiving.
Reviews online
Reviews online about Amsterdam seed banks are positive over the internet and overwhelming from the store visitors. They are considered a reliable source of ordering cannabis seeds online in Europe and also worldwide. The service is quite easily accessible by European and faces little issues with orders from other parts of the world related to payment and shipping time and also loss of parcels. However, it is part and parcel of online shopping, and there is nothing much to control. Apart from it, service from Amsterdam Seed Bank is satisfactory.
Shipping method
Amsterdam Seeds Center ships worldwide except the USA, Norway, Turkey, and Bulgaria. They also do not ship for free, and customers are required to pay for the shipping. Shipping options include regular mail for the worldwide delivery with the exceptions and registered mail within Europe, which cost more than the regular mail.
The seed center also offers guaranteed delivery within Europe with registered shipping. The guaranteed delivery facilitates order replacement in case of non-delivery or loss of parcel in transit. The delivery within Europe only takes a few days, and apart from Europe, it takes 7-15 working days to reach other parts of the world.
They also ship discreetly in neutral packaging to avoid unnecessary troubles in receiving orders. The packaging is also crush-proof and often in packages with cavities, which keeps your seeds safe.
Payment Options
Payment options are numerous with Amsterdam Seed Banks with greater options for European customers. Customers can pay via Cash, Credit Card, Bank transfer, Cryptocurrency, and also Western Union Money Transfer. They also accept iDeal, PayTickets, GiroPay, Sofort, and more.
To exercise cash options, customers can send cash to their address via registered mail. Another anonymous payment can be made via Bitcoin to Amsterdam Seed Center. Cash Cards are also accepted, but only European Credit Cards with additional fees. Bank transfer online and even manual can be made to accounts of Amsterdam Seed Center, and they also accept Western Union Money Transfer from all over the world.
Offers
Amsterdam seed center has a dedicated promo page for offer suggestions on seeds and other products. They offer free seeds with your order. For example, you get one seed-free on the order of three seeds, two seeds free on the order of five seeds, and more under running promos. You get promo offers on different brands and seeds, and you can choose from them on the website.
They also provide discounts on large orders, which is a 5% discount on orders above 500 euros, a 10% discount on an order above 1000 euros, and a 15% discount on orders above 1500 euros.
Pros
Pros
Extensive collection of strains and seeds
Physical store in Amsterdam
Various cannabis products
Relatively faster shipping
Aplenty of payment options including cash
Cons
Cons
Doesn't accept non-European credit cards
Doesn't ship to USA, Norway, Turkey, and Bulgaria
Best Alternatives in 2022NNN
Frequently Asked Questions (FAQs) Regarding Amsterdam Seed Center
1. When is Amsterdam Seed Center open?
Amsterdam seed center is open from 10 AM to 7 PM from Sunday to Wednesday and from 10 AM to 8 PM from Thursday to Saturday.
2. Are there any valid Amsterdam Seed Center Coupons right now?
Amsterdam Seed Center coupons ranging from 10% to 30% are available online and are valid too. You can also enjoy free seeds, and promo offers on the website for discounts.
3. How much can I save with Amsterdam Seed Center Coupons?
There are various coupons available for discounts on your purchase from Amsterdam Seed Center. You can save the mentioned percentage, which is 10% or 30% or likewise with the coupons.
4. Why does Amsterdam seed center not allow orders from the US?
As it is illegal to send seeds in the mail by federal law of the USA, the Amsterdam seed center does not allow orders from the US.
5. Are postage costs included in the price of products?
No, postage costs that are shipping cost are not included in the price of products on the Amsterdam Seed Centre. Customers need to pay the additional shipping costs on their orders, and they can also choose between regular and registered mail.
Recommended:
The Cumulation
So, we are here at the end of the review of Amsterdam Seed Center, and we are certainly sure that now you know what you want to order from them. The cumulation of the evaluation of the seed center will be that it is an ideal place to order seeds from several seed banks without the hassle of ordering from various and different, which takes a lot of effort and time. The collection is simply amazing, with some of the best strains from leading and reliable seed banks.
Apart from seeds, the other products and merchandise are icing on the cake with tons of varieties. You can shop for crushers, lighters, grow equipment, vaporizers, and a lot more others easily from their website. The collection also includes merchandise from Paradise Seeds. The other best thing is the physical store in the heart of Amsterdam, which is loved for its service.
So, look for the seeds and strains you want to order or visit them in person to get your hands on the finest seeds and best of products. Also, take advantage of the professional articles on the website to grow your weed.
Recommended: