We are supported by readers. When you purchase through links on our site, we may earn an affiliate commission.
Last Updated on September, 2023 by Rob Wilson
Another seed bank review, and this time it is GreenHouse Seeds, a well-known and trusted seed bank from the cannabis capital of the world, the Netherlands. The GreenHouse is a cannabis brand, which needs no introduction if you are into cannabis and its cultivation, and if not, you must go through the detailed review, we have put down below.
These are the top cannabis seeds on the market:
| | | |
| --- | --- | --- |
| Do-Si-Dos Feminized Seeds | Runtz Feminized Seeds | Zkittlez Feminized Seeds |
Best Seed Bank Alternatives
MSNL is so popular that it needs no introduction in the community. They have a wide range of products and ship orders worldwide. They accept payment in varied ways including currency transfer and bitcoins.
It is one of the most trusted and well-known names in the cannabis industry. It ships worldwide and has numerous payment options including bitcoins.
This seed bank entered the market in 2005 and has been one of the dominating names since then. It ships in a large number of countries and accepts all sets of standard payment options including cryptocurrencies.
Well, if GreenHouse Seeds needs no introduction, what to do with the review? So, the analysis concentrates on the hype around GreenHouse Seeds, and do they live up to it? Also, well-known from other's perspective, you need a first-hand review for a reliable evaluation before making your purchase decision. So, read further.
GreenHouse Seeds Review (2022)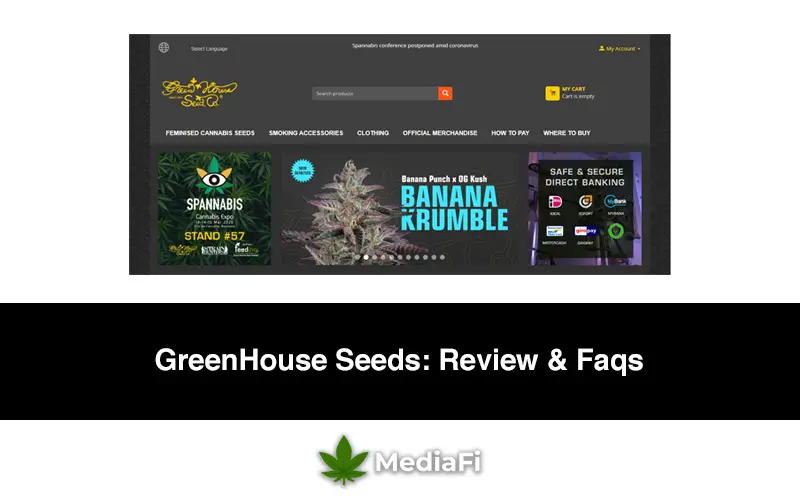 About GreenHouse Seeds
GreenHouse Seeds and its founders are well-known in the cannabis community and also beyond. Both the bank and founders are celebrated for their contribution to marijuana research, seeds, products, and more. Importantly, the founder Arjan and Franco, Franco, who is, unfortunately, no more are and were fantastic breeders and now an entrepreneur in marijuana and cannabis-related business. This explains the reliability you can expect from GreenHouse Seeds.
The foundation of GreenHouse Seeds was laid way earlier before the business commenced. It was Arjan, who collected various genetics of landraces around the world and started breeding them, which continues till today even after two and a half-decade. The research and intensive breeding is the foundation of fantastic strains of GreenHouse Seeds. 
| | | | |
| --- | --- | --- | --- |
| Autoflower Mix Pack | White Widow Autoflower | Auto 2.0 Mix Pack | Beginners Grow Kit |
Winner of 40 High times Cannabis Cups, 17 Highlife Cups, and various similar and prestigious accolades, GreenHouse Seeds is a frontrunner in the cannabis seed business. GreenHouse Seeds is not the only venture of Arjan, and there is a lot more under his belt. He has a whole empire in the cannabis community with four coffeeshops in Amsterdam, one cannabis social club in Barcelona, an award-winning cannabis documentary company, a medicinal cannabis research company, two seed banks, a cannabis nutrition company, and various other ventures related to cannabis.
And, most importantly, the seed bank and seeds are trusted around the world for their genetics and results.
About GreenHouse Seeds Website
The website of GreenHouse Seeds is neat and easy to browse. Somehow it has limited things presented, and you need to go through the menu and categories to find what you are looking for and things you need to discover. However, you will find running offers and news on the landing page, along with relevant information regarding payment options. The site can be browsed in twelve different languages.
The menu of the website leads you to the various types of seeds like the type of seeds, special strains from Arjan, seeds for different climate zones, limited edition landraces, seeds from strain hunters that is another seed bank from the founder, and various others. Other options of the menu lead to accessories, clothing, merchandise, and information about ordering from them.
| | | | |
| --- | --- | --- | --- |
| Gelato | Girl Scout Cookies | Wedding Cheesecake | Banana Kush |
The footer of the website takes you to a variety of information, which cannabis enthusiasts never want to miss. It has information regarding the history of GreenHouse Seeds, about the founders, list of awards, and grow session videos. And, the rest of the information includes one of a kind germination instructions, the unique flavor wheel, which lists the flavor and taste of strains, the effect reference table, which allows you to get an idea of effects, catalogs of seeds from both the seed banks and most importantly the GreenHouse strain statistics, which lists down the flowering time and yield of the strains for the best reference.
You can also find details regarding the bank details and contact details of the seed bank along with links to various ventures of the GreenHouse Seeds founder.
Products and Services offered by GreenHouse Seeds
Products and Services provided by GreenHouse Seeds are at par. They have a limited collection of strains, which are developed by them, unlike other seedbanks with collection from various other seed banks and breeders. At GreenHouse Seeds, you'll be able to find seeds and strains bred by them and Strain Hunters. They also have a collection of CBD oils launched under the name of GHM Botanicals.
| THC Snow | Purple Afghani | Headband OG | Mango |
| --- | --- | --- | --- |
| Purple Pineberry | Green Crack | Gelato | Purple Power |
Seeds are available in various types at GreenHouse. You can discover their strains and genetics in auto-flowering seeds, Feminized seeds, CBD seeds in auto-flowering, and feminized versions. Indica seeds, Sativa seeds, and special edition landraces seeds are also available. However, GreenHouse has no collection of regular seeds, which is a drawback for the users keen on growing their weed via the old method and also who wants to try hands-on crossing them.
Other products include accessories such as grinders, lighters, pipes, and rolling papers. Clothing options include caps, T-shirts, and hoodies, whereas official merchandise has options for bags, books, cups, mugs, DVDs, keychains, sports bottles, stickers, and a lot more.
Quality and Type of Seeds and Strains by GreenHouse Seeds
The collection of seeds and strains, which are bred by the team of GreenHouse Seeds, is astonishing. They have a selection of great potent strains bred professionally from years. Their strains come from landraces of Africa, India, Spain, and various other places. Their strains have distinctive characteristics, which respond to growing techniques like indoors and outdoors, which helps you obtain strains that will do well in conditions you have around.
GreenHouse Seeds sells seeds in feminized and auto-flowering seeds and doesn't sell regular seeds. The quality of seeds is backed by intensive breeding techniques and years of successful breeding with their own research and development with different varieties. GreenHouse Seeds used proven and professional methods of breeding and didn't genetically modify strains.
| Blue Dream | Cannatonic | Skywalker OG | Green Crack |
| --- | --- | --- | --- |
| Granddaddy Purple | Durban Poison | Girl Scout Cookies | Sexxpot |
You'll be able to find various famous strains at the GreenHouse Seeds, including award-winning strains bred by Arjan under the name of Arjan Haze and variants. The seeds and strains are recipients of several awards from years and result in healthy plants and yields. Users can also shop Hybrid seeds and strains with mostly Indica and Sativa as per preference. Also, the famous strain Super Lemon Haze was bred by Arjan by crossing Lemon Skunk and a Super Silver Haze. Find some of the best strains by GreenHouse Seeds below.
Some of the best-feminized strains from GreenHouse Seeds
Arjan's Ultra Haze 2 (Mango Haze) (Feminised)

Great White Shark (Feminised)

Jack Herer (Feminised)

Arjan's Ultra Haze 1 (Feminised)
Some of the best auto-flowering strains from GreenHouse Seeds:-
Sweet Mango Auto (Feminised)

Super Bud Auto (Feminised)

Super Lemon Haze Auto (Feminised)

White Widow Auto CBD (Feminised)
Limited edition landraces offered by GreenHouse Seeds:-
Exodus Cheese x Jack Herer x NL5

Hawaiian Snow x Wedding Cake x Gelato 33
Reviews Online
Reviews online regarding GreenHouse is majority positive and applauding. They also have a verified review channel on Trustpilot, where first-hand reviews can be found from the customers who have a shopping experience with them. The majority of the reviews have been seen praising the genetics and strain quality of the seeds from GreenHouse Seeds.
Positive reviews are found for the germination rate and quality of the seeds. They have been praised for their professionalism and fulfillment of orders. The customer service is also attentive, and queries of users and customers are resolved as soon as possible. Users can also accept prompt replies on reviews and complaints.
However, there have been reported instances of negative feedback involving non-germination of a lot of seeds and strains and yields being weak. Issues with non-delivery and loss of seeds are also reported. These instances and negative feedback are although very scarce and can happen in any course of business as we understand. Customers have received resolve of their complaints, and GreenHouse seeds also resend orders in case of non-germination of seeds, which is covered under their germination guarantee.
Also, reports by some customers criticize the quality of strains, and the yield, which is not as it was earlier with the seed bank.
Shipping and method
GreenHouse Seeds ships to limited countries and doesn't ship to the USA. The list of countries that GreenHouse Seeds accept order and ship to are Austria, Brazil, Belgium, Chile, Czech Republic, Denmark, England, France, Germany, Georgia, Greece, Ireland, Italy, Japan, Norway, Poland, Romania, Russia, Scotland, Slovenia, South Africa, Spain, Sweden, Switzerland, the Netherlands, Ukraine, Uruguay, and United Arab Emirates.
GreenHouse Seeds doesn't send seeds to the USA and Canada as it is illegal in the USA and prohibited in Canada to send any live product without proper certification. They do not entertain any queries from the USA.
| Girl Scout Cookies | Blueberry | Blue Dream | Sour Diesel |
| --- | --- | --- | --- |
| AK-47 | White Widow | Granddaddy Purple | Jack Herer |
The shipping method of the company is discreet in neutral packaging—their new packaging stores seeds in crushproof packs, which have a horizontal tube to keep seeds. The packaging keeps your seeds separate, fresh, and safe from damages and contaminants. The shipping cost of your orders from GreenHouse depends on the order weight and distance for the shipment. It is calculated at the checkout on your total order. Also, customers can enjoy free shipping on orders above 150 Euros to any country GreenHouse ships to.
The company also entertains return and exchange if the reasons fall under the category of acceptance. For further information, readers can refer to terms and conditions on the website of GreenHouse Seeds.
Payment options
Payment options accepted at GreenHouse Seeds are Credit and Debit cards, Direct banking options, Bank transfer, and cash via postage. You can pay via your credit cards and debit cards at the checkout, and the majority of them are accepted. In case of non-acceptance, you must try other methods.
The direct banking options are accepted from various countries via different channels and services. The iDeal is accepted for orders from the Netherlands, Bancontact is accepted for orders from Belgium, GiroPay for the Netherlands, Austria, Poland, Belgium, Germany, and Switzerland. My Bank for Italy, Luxembourg, and France, and Sofort for Germany, Belgium, Spain, Italy, Poland, Swiss, and Austria.
Bank transfer can be made directly to their bank account mentioned on the site and also during the checkout process. The cash sending option can also be exercised but is accepted only in Euros. The cash must be sent via registered mail and properly to avoid theft, and the company doesn't own any responsibility for loss or theft during transit. Users must send cash at their discretion.
Offers
GreenHouse Seeds doesn't offer frequent offers like other seed banks. However, they have various discounts running on seeds and strains from time to time. You can enjoy your favorite strains on sale many times. They offer free shipping on order value above 150 Euros.
Pros
Pros
Seed bank with a rich history of breeding
Winners of several awards
Collection of best potent strains
Offers germination guarantee
Cons
Cons
Doesn't have regular seeds of strains
Doesn't ship to USA, Canada, and other few countries
Other Recommended:
Frequently Asked Questions (FAQs) regarding GreenHouse Seeds
1. Who are the founders of GreenHouse Seeds?
GreenHouse Seeds was founded by Arjan, the current owner and founder of the seed bank. The seed bank also had co-founders and breeders Franco Loja, Shantibaba, MrNice, and a few more.
2. What happened to Franco Loja?
Brother of Arjan and breeder at GreenHouse Seeds and cannabis enthusiasts Franco Loja passed away on the 2nd of January 2017 after contracting cerebral malaria while working in Congo.
3. Which is the most famous strain from the GreenHouse Seeds?
There are various famous strains from the GreenHouse Seeds. But one of the most famous is the Super Lemon Haze.
4. Why doesn't GreenHouse Seeds ship to the USA?
GreenHouse Seeds doesn't ship to the USA due to the federal law illegalizing use, possession, and selling of cannabis and seeds. The illegal nature of seed possession and cultivation of cannabis restrict GreenHouse Seeds to ship to the USA.
Other Recommended:
The Cumulation:
So this was all about GreenHouse Seeds, their history, collection, quality, and services. Definitely, on everyone's list, the seed bank surely deserves a try if you haven't yet to get your hands on some of the best genetics. They are professional and reliable. The cumulation will be that the seed bank is a reliable source of obtaining great seeds and strains and also knowledge from their pieces of information on the website, documentaries, and more. So, hit the links above and get home great seeds for your weed.