We are supported by readers. When you purchase through links on our site, we may earn an affiliate commission.
Last Updated on September, 2023 by Rob Wilson
Royal Queen Seeds is one another name you quite often hear or see when it comes to quality cannabis seeds and more such supplies. Europe is full of these quality suppliers, and you need to know more about them to order your seeds to grow your weed. So, for your insight into one of the major seed suppliers, we are here with a detailed review. Review down below will prove to be extremely helpful if you are planning to buy from them.
These are the best cannabis seeds on the market:
| | | |
| --- | --- | --- |
| Do-Si-Dos Feminized Seeds | Runtz Feminized Seeds | Zkittlez Feminized Seeds |
Best Seed Bank Alternatives
MSNL is so popular that it needs no introduction in the community. They have a wide range of products and ship orders worldwide. They accept payment in varied ways including currency transfer and bitcoins.
It is one of the most trusted and well-known names in the cannabis industry. It ships worldwide and has numerous payment options including bitcoins.
This seed bank entered the market in 2005 and has been one of the dominating names since then. It ships in a large number of countries and accepts all sets of standard payment options including cryptocurrencies.
Royal Queen Seeds Review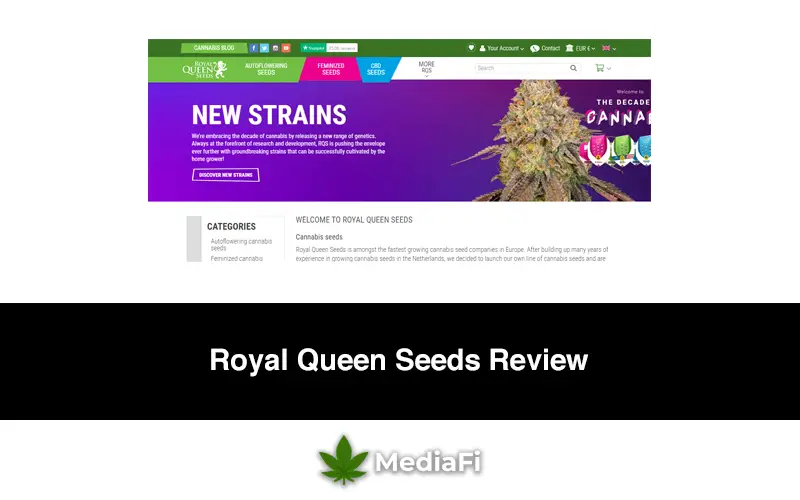 About Royal Queen Seeds
Royal Queen Seeds is a European seed bank based in the Netherlands. It is one of the renowned seed banks all over the world with numerous award-winning strains. The bank is awarded the best seed bank 2019 by Spannabis Barcelona and Best Seed Bank at Indicasativa Bologna Trade Fair in the same year. The collection of awards also includes numerous Highlife Cup and the High Times Cannabis Cup awards awarded to strains bred by Royal Queen Seeds.
The seed bank has breeding experience of over two decades and offers the best collection of auto-flowering seeds and strains. They also provide excellent quality and variety of feminized seeds. Other than their specialty, you will also find a vast selection of regular and medical strains. The best part about Royal Queen Seeds is their physical presence apart from their online presence. They have three physical stores, where you can walk-in to buy seeds, merchandise, and more. They have two stores in cannabis capital Amsterdam and three in the emerging cannabis market of Barcelona.
About Royal Queen Seeds Website
The website of Royal Queen Seeds is highly interactive and a pleasant experience to browse. The landing page is loaded with information on seed strains, new launches and offers currently running on the website. They have a list of the best strains, cup winning strains, and top ten strains and seeds on the landing page to help users discover their best offerings. The menu takes you to categories of seeds like auto-flowering, feminized, and CBD that are medical seeds to shop what you are looking for easily.
| Girl Scout Cookies | Blueberry | Blue Dream | Sour Diesel |
| --- | --- | --- | --- |
| AK-47 | White Widow | Granddaddy Purple | Jack Herer |
The website can be browsed in 17 different languages and has an extensive filter to help you find the exact strain you are looking for. The filter filters information like yield, height, flowering, THC contains, CBD contains, Type of seeds, Climate, and more. The website also accepts payments in multiple currencies. You can pay in Euros, British pounds, Chilean pesos, and in Poland złoty.
The pieces of information available on the website's blog is no less than a treasure trove for growers. The cannabis blog is filled with grow guides, latest news, developments in growing techniques, detailed notes on strains, and a lot, lot more.
The website also has Trustpilot reviews, where users can find first-hand reviews on service and quality of strains from the Royal Queen Seeds. The footer of the site takes you anywhere on the website and makes browsing and discovery a lot easier. They are also quite active on social media to keep you updated.
Products and Services offered by Royal Queen Seeds
Significant physical presence with two stores in Amsterdam, three in Barcelona, and a significant online presence gives in the credibility of Royal Queen Seeds. The product and services offered by Royal Queen Seeds don't limit to seeds only. Apart from seeds, they have a collection of growing support like germination kits, nutrients, boosters, starter kits, and more. They also have equipment for sale like grow caps, trimming scissors, pH testers, and more.
| THC Snow | Purple Afghani | Headband OG | Mango |
| --- | --- | --- | --- |
| Purple Pineberry | Green Crack | Gelato | Purple Power |
Quality and Type of seeds and strains by Royal Queen Seeds
With an outstanding experience of breeding for decades, the quality and variety of seeds and strains from Royal Queen seeds stand out. They have a rigorous quality check in which seeds are hand-picked and screened various times to ensure potent strains and germination. The practice of organic breeding is one crucial aspect of top-notch quality provided by RQS.
| | | | |
| --- | --- | --- | --- |
| Autoflower Mix Pack | White Widow Autoflower | Auto 2.0 Mix Pack | Beginners Grow Kit |
They are the receiver of various accolades for their strains, which speaks the volume of quality and breeding RQS carry out. And, the type and collection of strains at RQS are overwhelming. They have a wide range of auto-flowering and feminized seeds, which helps you get comfortable and quick yields without having to worry about the male plants. They have a vast collection of classic strains like White Widow, Northern Lights, Amnesia Haze, Shining Silver Haze, OG Kush, Skunk, Critical, and various others.
You get to shop cup winning strains, top-selling strains, high-potency strains, and every year new strains bred by Royal Queen Seeds from their website and also from the stores.
Some of the best seed selection from Royal Queen Seeds:
Some of the best Feminized Seed:-
Some of the best Autoflowering seeds:
Some of the best CBD seeds (Medical Strains)
| Jack Herer | Northern Lights | Super Skunk | Purple Bud |
| --- | --- | --- | --- |
| Big Bud | Hindu Kush | Sensi Skunk | Ed Rosenthal |
Reviews online
Reviews online regarding the quality of seeds and services by Royal Queen Seeds in pleasing and gratifying. The majority of reviews applaud their fast delivery service and how great seeds turned out. The germination rate, the potency of strains, and the quality of seeds are celebrated. The reviews also mention the support Royal Queen Seeds offered when orders were not delivered, and they sent the users their requests again without any hesitation.
However, there are few cases of seeds not germinating, orders not reaching, and lack of customer support. There were complaints of the bonus seeds that are the free seeds not germinating. But, these instances are pretty rare and can happen in business sometimes.
Shipping and method
Royal Queen Seeds only ships to 31 countries right now. The countries are Austria, Belgium, Bulgaria, Croatia, Cyprus, Czech Republic, Denmark, Estonia, Finland, France, Germany, Greece, Hungary, Ireland, Italy, Latvia, Lithuania, Luxemburg, Malta, Monaco, Netherlands, Poland, Portugal, Romania, San Marino, Slovakia, Slovenia, Spain, Sweden, United Kingdom, and Chile.
If the list of countries doesn't have the name of your country, RQS doesn't ship to you, and you cannot order from them online.
They have two shipping methods, Standard shipping, and other is UPS or UPS access point shipping. The standard shipping method is the postal method of every country, where packages are sent through the sign method or are directly delivered in the mailboxes, which depends on the country and their mailing service. This method is free and takes 7 to 15 business days for delivery. It is also trackable when the package reaches the destination country, and the same is communicated via confirmation mail.
The paid option UPS or UPS access point shipping method is a network of convenient delivery locations, from where you can collect your shipment when you are not available at your address or home. Text and Emails are sent to you regarding shipment and status as ready to collect by the UPS service. This option can be exercised during checkout, where the user can select an access point and consult their opening hours for collection.
Royal Queen Seeds ships out orders in two types of packagings. One is standard packaging, which is a neutral package with no mention of order, content, company, and only included delivery address. This packaging is shipped for free to all the 31 countries. The other packaging is stealth packaging. The stealth packages are sent out in a DVD case to keep the content of the package discreet to avoid confiscation. This method is chargeable at 5 Euros.
All the packages from Royal Queen Seeds include vacuum-packed seeds for freshness and safety and are further packed in a high-resistant envelope for protection during transit. The vacuum packaging keeps seeds crush-protected and safe from contaminants.
However, shipping policies of Royal Queen Seeds don't provide guaranteed shipping despite the paid stealth shipping option. In case of non-delivery of order with no invalid information, customers can contact customer support after 15 days from order.
| Blue Dream | Cannatonic | Skywalker OG | Green Crack |
| --- | --- | --- | --- |
| Granddaddy Purple | Durban Poison | Girl Scout Cookies | Sexxpot |
Payment options
Royal Queen Seeds accept a variety of payment options and in multi-currency. You can pay via Credit cards, Bank Transfer, Bitcoin, iDeal, and many other European payment options. Visa, Mastercard, and Maestro credit cards are accepted for payment and may take up to 24 hours. Bank Transfer can be made via different countries, and the user will need to follow specific guidelines mentioned for hassle-free payment and acceptance of an order. The method of bank transfer may take up to 3 to 7 business days, and orders will be processed later. Other methods can be exercised easily during the checkout process.
Payment in Euros, British Pound, Chilean pesos, and in Poland złoty are accepted. You cannot pay at Royal Queen Seeds via cheque, cash, Paypal, cash on delivery, and also through prepaid cards.
Offers
Royal Queen Seeds offer plenty of offers to make most of your money and also to get yourself rewarded with discounts and free seeds. Royal Queen Seeds also send out free merchandise like grinders, stickers, smoking papers, lighters, and posters on orders above a certain order amount. However, with the stealth shipping method, these merchandise cannot be sent due to no spare space in the packaging.
The free seed offer of the Royal Queen Seeds offers one free seed on order above 25 euros, three seeds on order above 50 euros, five on above 75 euros, eight on above order of 110 euros, ten on orders above 135 euros, and the list goes on till 60 free seeds on orders above 780 euros. They also offer a 10% discount on the next order when a customer reviews them online.
You can also avail discount vouchers when you review Royal Queen Seeds on different platforms. You also get a 5% discount on your order when you like the Facebook page of RQS. Users can also enjoy discounts and special prizes on wholesale and bulk orders from Royal Queen Seeds.
Pros
Pros
Extensive collection of award-winning seeds and strains
Best offerings in feminized and auto-flowering seeds
Awarded best seed bank in 2019
Variety of payment and shipment options
Vacuum packaging of seeds
Organic breeding and rigorous quality check
Cons
Cons
Ships to limited countries
Doesn't accept cash as payment
Best Alternatives of Royal Queen Seeds
Other Recommended:
Frequently Asked Questions (FAQs) Regarding the Royal Queen Seeds and Cannabis Seeds
1. Are Royal Queen seeds legit?
Yes, Royal Queen seeds is a legit cannabis seed supplier and also amongst the best around the world. They also have two physical stores in the heart of Amsterdam and three in Barcelona. They have a vast collection of feminized and auto-flowering seeds and too many award-winning strains.
2. How do you grow Royal Queen seeds?
Royal Queen Seeds can be grown like other cannabis seeds. Ensure professional handling of seeds through the professional method of germination and grow for the desired yield.
3. How do you germinate OG Kush seeds?
Germination of OG Kush seeds or other cannabis seeds remains the same. Use the paper towel method for the best results or plant your seed deep in moist soil for germination. The difference arises in growing after the seedling stage in lighting, temperature, and more.
4. How much do Autoflowers yield?
The yield of any seed and strain depends on the growing conditions and handling from germination to flowering. Typical favorable conditions yield up to 50 grams from auto-flowering seeds, and it may go up with the best conditions, care, and type of seed and strain.
Other Recommended:
The cumulation
So, it was all about the Royal Queen Seeds, their collection, quality, and services. And, we are pretty much sure that you must have made up your mind. The seed bank offers a vast collection and quality service. They have been around for a long time and have breeding experiences of decades. Also, breeding practices and quality check is rigorous, which ensures healthy seeds and potent strains. You can also visit their physical store of an in-person presence. However, their service to limited countries is a downside.
So, if you reside in the countries where Royal Queen Seeds deliver their products, order without any further thought and check out the strains listed above. And also if you can visit them in person drop by their store, and you will not be disappointed.