We are supported by readers. When you purchase through links on our site, we may earn an affiliate commission.
Last Updated on September, 2023 by Rob Wilson
Herewith another review of Seed bank, which is very popular in the Spanish and French market and even has the potential to compete in the cannabis market of the Netherland. Dinafem Seeds are pioneers in the world of cannabis cultivations with relatively late establishment compared to their fellow competitors. They have words of praise from around the world and are in good books of growers.
These are the top cannabis seeds you can ever grow:
| | | |
| --- | --- | --- |
| Do-Si-Dos Feminized Seeds | Runtz Feminized Seeds | Zkittlez Feminized Seeds |
Best Seed Bank Alternatives in 2022
MSNL is so popular that it needs no introduction in the community. They have a wide range of products and ship orders worldwide. They accept payment in varied ways including currency transfer and bitcoins.
It is one of the most trusted and well-known names in the cannabis industry. It ships worldwide and has numerous payment options including bitcoins.
This seed bank entered the market in 2005 and has been one of the dominating names since then. It ships in a large number of countries and accepts all sets of standard payment options including cryptocurrencies.
So, for an insight into the Dinafem Seeds, if you haven't purchased from the earlier, we have bought a detailed review you decide that the hype is real or not. And, whether you should buy from them or not. So, let's get into the details and discover one more seed bank for the best source of seed for your weed.
Dinafem Seeds Review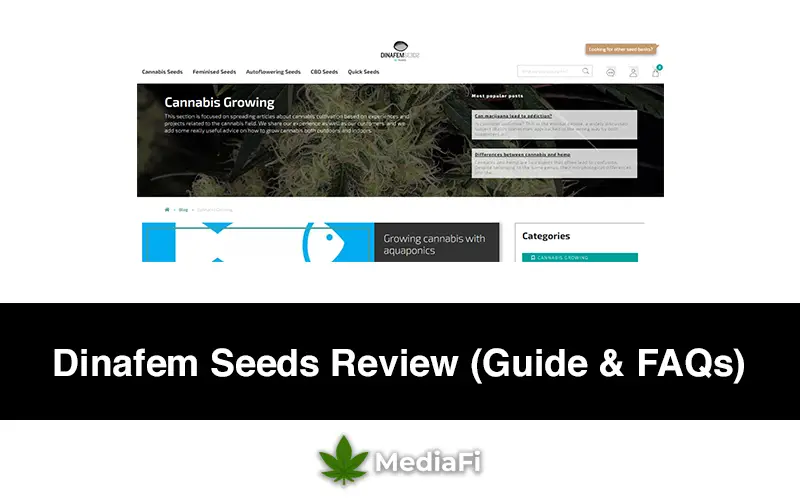 About Dinafem Seeds
Dinafem Seed is a pioneer in the Spanish cannabis community, which was established in the year 2005. They are best known for their research and development of feminized seeds, which has certainly changed the game of cannabis cultivation. They were also involved with the research and development of auto-flowering seeds for the effortless flowering of the cannabis plants without the need for changing light conditions. Dinafem is also credited with the cultivation of the most excellent genetics throughout its history of 15 years.
| | | | |
| --- | --- | --- | --- |
| Gelato | Girl Scout Cookies | Wedding Cheesecake | Banana Kush |
They are breeders of some of the best strains and also have a collection of seeds and strains from other seed banks to present their customers with collection and options. Their collection has varieties and stands out due to the potent breeding, which results in healthy plants and higher yields. Their strains are cup winners and are bred with the best possible practices of breeding and cultivation.
About Dinafem Seeds Website
The website of Dinafem Seeds is simple and easy to browse. The landing page takes you to every corner of the site with dedicated pages to types of seeds, collection from various seedbanks, and to the blog section. The website is neat and readable with every information about the seed bank, products, services, and more. The site is encrypted and certified for the safety of the user's information.
However, the site is basic but serves the purpose. The products have little but specific details in hover and elaborate upon clicking, which gives a quick inquire and also the detailed one. The strains have detailed descriptions, including type, content, growing condition, and more on the website. The product category has every possible information with an easy menu, pictures, and details without looking stuffed with information. Easy categories on the site surely make the selection and shopping of the strains easy.
Product and Services Dinafem Seeds offer
Dinafem is a breeder and retail supplier of cannabis seeds, which includes their collection of self-bred potent strains and collection from several seedbanks with whom they have partnered to retail their seeds. This gives users an option to buy seeds from different seedbanks from one place and in one order. This also allows the Dinafem Seeds to offer a collection to its user base, as they have a limited number of strains as they bred very carefully.
| THC Snow | Purple Afghani | Headband OG | Mango |
| --- | --- | --- | --- |
| Purple Pineberry | Green Crack | Gelato | Purple Power |
Seeds from the following seedbanks are available on Dinafem Seeds:- Barney's Farm, DNA Genetics, Dutch Passion, Humboldt seed organization, Lamota Seeds, Reserva Privada, Sensi Seeds, and Serious Seeds.
Apart from seeds from Dinafem Seeds and other seed banks, Dinafem also now has products like Dinafem CBD creams in two variants that is CBD ICE and CBD HOT for similar effects made from organic hemp oil and pure CBD.
The blog of Dinafem is highly helpful with tons of guidance for cultivators and beginners. It has articles about cannabis history, Cannabis types, and varieties, details on strains, News about cannabis from around the world, and a lot, lot more.
Type and Quality of Seeds from Dinafem Seeds
Dinafem Seeds is a breeder of some of the finest strains and has invested a lot of effort in developing potent strains from time to time. The quality of seeds and strains from the seed bank is praised and is worthy of being bought and grown. Dinafem is awarded Best Seedbank at the 2013 Expogrow Cup, as well as at Spannabis Malaga in 2014 and 2015, which speaks for the quality of strains.
The collection of seeds at Dinafem Seeds includes all the types that are Feminized, Autoflowering, regular, High THC strains, High CBD strains, and also quick strains. The quick strains are photo-dependent strains, which flowers real quick that is in a week or a little more. These fast genetic seeds are specially bred to flower earlier than other types of strain and seeds with favorable light cycles.
The Moby dick, a Sativa-dominant strain of Dinafem seeds in the receiver of whopping ten awards from several cup competitions and is low maintenance yet high-yielding potent strain developed with professional practices. Other such heavy performing strains from Dinafem are OG Kush with two awards, Critical + with six awards, Blue Widow with two awards, Big Kush with one award, and a lot many more award-winning plus very steady strains.
| Girl Scout Cookies | Blueberry | Blue Dream | Sour Diesel |
| --- | --- | --- | --- |
| AK-47 | White Widow | Granddaddy Purple | Jack Herer |
Best strains from Dinafem Seeds:
Best Medical Strains:
Some of the best CBD strains from Dinafem Seeds
Also, the seeds at Dinafem Seeds are kept in a controlled environment to preserve freshness and qualities like in the Eppendorf tubes used for shipment with silica gel. This way, you get seeds fresh and full of qualities from the seed bank. 
Dinafem Seeds offer a 99% germination guarantee on their seeds. And, in case of non-germination, they have a replacement policy on seeds not germinating, excluding free seeds for time up to 3 months from the date of purchase. Users can claim a replacement by writing to the customer care with the order number and germination method with pictures.
Best Alternatives in 2022
Reviews online
Reviews online are quite impressive about Dinafem Seeds. They have huge positive responses across the internet, along with few remorseful reviews complaining of unattentive services and orders not arriving. However, the later ones are very rare and happen with every business out there, which can be considered uneventful happenings.
There have been reported instances in the reviews of Dinafem going out of the way to help customers with Dinafem seed orders and complaints, even ordering from another party. They have been praised for their customer support and also quick action, which included re-shipment of orders in case of loss and damage in transit and quality concern of the seeds.
The strain quality of Dinafem seeds is most praised as they have stable strains and higher yields due to the best breeding practices and knowledge the Dinafem Seeds possess in the cultivation area.
Payment options
Dinafem Seeds now offer a lot of payment options, which was not the case earlier. They now accept Bitcoins for anonymous payments. You can pay them via several options like cash, credit cards, bank transfer, and also cash on delivery. They accept bank transfer and only VISA and MasterCard for credit cards.
The unique cash on delivery service is available for customers in Spain, France, Italy, Portugal, and Germany. However, the option is not available for overseas regions of Spain and France and the Islands of the countries except Corsica and Balearics. Also, Bank transfer is not available for all the countries and is accepted in Euros only.
However, payment options of Western Union and PayPal are not accepted.
Shipping methods
Shipping methods of Dinafem are excellent with the most reliable mailing and courier services. They ship throughout the world except for a few countries. The countries Dinafem doesn't take orders from and doesn't ship are the USA, Argentina, Australia, and South Africa due to the law governing cannabis consumption, possession, and cultivation.
We are impressed by the efforts the seed bank takes to send out orders with due diligence and care. They use premium courier services and also partners with mailing services of countries to quickly and safely send out orders.
They deliver orders of mainland Spain and France within a few days, which is 2 to 3 days, which is quick. Other orders overseas, islands, and other countries may take the time of about 15-30 days from the day of shipment, which majorly depends upon courier and postal service in the said region. They also deliver super quick within 24 hours from DHL in Europe with exception to certain cities and areas, where orders are sent via regular mail.
Their shipping is also guaranteed for delivery, and service is praised for the quick response, taking responsibility, and acting for the same. The other care they take is shipping orders in neutral brown envelopes, which are padded for the safety of the seeds. The shipment also includes innovative packaging, which stores seeds in dry and temperature controlled microtubes. The tubes are Eppendorf microtubes with silica gel separated to protect the natural qualities of the seeds
The services of Dinafem don't ship to Argentina, Australia, South Africa, and the USA, and that is the only drawback of their excellent shipping service. Order of Euro 30 or above made via Credit Card for Spain and France is shipped for free. Cash is accepted in Euros only, which should be sent via registered mail.
The downside of the service is that they ship to South America via regular mail, which is not trackable so that customers will face problems locating their mails, and the risk of order going missing may arise.
Offers
For offers and discounts on your Dinafem orders, you can sign up for their newsletter to receive information on the same. They do not offer much of offers being quality their priority. However, the shipping methods awards free shipping on orders of above 30 Euros to Spain and France when made via Credit Card.
Pros
Pros
Finest strains and award-winning strains and seeds
Impeccable shipping service with innovative packages
Fresh and potent seeds
Thoughtful and helping articles
Offers 99% germination guarantee
Accepts plenty of payment option including Bitcoin
Cons
Cons
Doesn't ship to Argentina, Australia, South Africa, and the USA
A limited collection of self bred strains
Frequently Asked Questions (FAQs) Regarding the Dinafem Seeds
1. Where are Dinafem seeds?
Dinafem Seeds is a Gipuzkoa, Spain based seed bank and breeders. They operate online and have several distributors across Europe.
2. Does Dinafem ship to the US?
No, Dinafem doesn't ship to the US. Due to laws, they don't accept orders from the US.
3. What are fast FEM seeds?
Feminized seeds of strains, growing, and flowering fast are fast fem seeds. These seeds are specially bred to be feminine and fast flowering for quick yields and no male plants in your grow, fearing pollination.
4. Payment methods Dinafem accepts for orders?
Dinafem Seeds accept Cash, Credit Card, Bank transfer, Bitcoin, and also cash on delivery as a method of payment.
Recommended:
The Cunmulation
So, here we are at the end of the Dinafem Seeds review 2022, covering every aspect of the seed bank from their history to products and details on their services. And, we are pretty much sure that you must have made up your mind about your purchase from them and the seeds you are going to pick. The cumulation of the seed bank at the end from our side will be a professional place to buy the most stable strains with a germination guarantee. Strains bred to almost perfection, and best shipping practices so the customers receive quality-rich and fresh seeds. So, head to their website to go directly to the best strains via links above and discover great seeds for your weed.
Recommended: